Friday, November 11, 2005
Iím doing a bit better today. Iím a little embarrassed to say it, because thereís no real reason for me to be doing better. That would seem to mean that all of the moaning Iíve been doing has been over something so inconsequential that it can just fade away. Apparently I donít need to see a doctor (or a shrink) after all. I should shut up and save my complaints for something that matters. Or at least something that lasts.
It appears the end of the world isnít imminent after all. I didnít have and am not having or about to have a nervous breakdown, or a psychotic episode, or an out-of-body experience. This sensation that I was teetering (or perhaps tottering) on the razorís edge of the deep end, which felt so real when I was in the midst of it, was about as real as a bad dream, or a Stephen King movie. The true test of reality is whether you can wake up when itís over.
---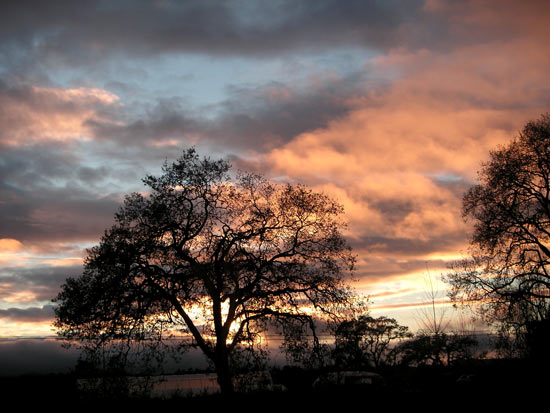 November sunset.
---
I donít know if Iíve found my way back, but Iím not quite as lost as I was. Itís not anything that I did. I havenít caught up on sleep, or work either. Something made me see the world as a bleak place for a few days, and then some other unknown force made the sun shine a little brighter. Iíd like to think I have more control over my moods than that, but at least some of the time I donít. Itís good to have family and friends who indulge me, or I donít know how Iíd have made it through.
---